CEMS Commitment to Social and Environmental Responsibility
CEMS is a purpose led organization built on the beliefs that great leadership starts with self-leadership and societal progress requires continual exploration. We also believe that collaboration is the best way to solve big challenges and there's huge power in being part of a global network. CEMS is much more than an academic programme, it's an alliance of academic institutions, corporate  visionaries, NGOs, and business leaders who seek to raise our collective global consciousness and create greater value for all through meaningful collaborations. Below you will find a number of activities CEMS is engaging in this area.
PRME Report
The Principles for Responsible Management Education (PRME) is a United Nations-supported initiative founded in 2007. As a platform to raise the profile of sustainability in schools around the world, PRME equips today's business students with the understanding and ability to deliver change tomorrow.
CEMS has been part of the PRME Initiative since 2010, establishing responsibility and interconnectivity as the main priorities towards building a better world. Through curricular and extracurricular activities, CEMS students are exposed to critical thinking and made aware of the challenges faced in today's globalized world.
Model UNFCCC
The United Nations Framework Convention on Climate Change (UNFCCC) is the annual meeting of the Conference of Parties (COP). The CEMS Climate Change Course and its Model UNFCCC is a semester-long lecture series on the topic of climate change and climate policy at the Masters-level. The lecture series are followed by a unique two-day simulation of UN climate negotiations, where over 150 students from 10 CEMS universities play the roles of government, non-government and industry representatives.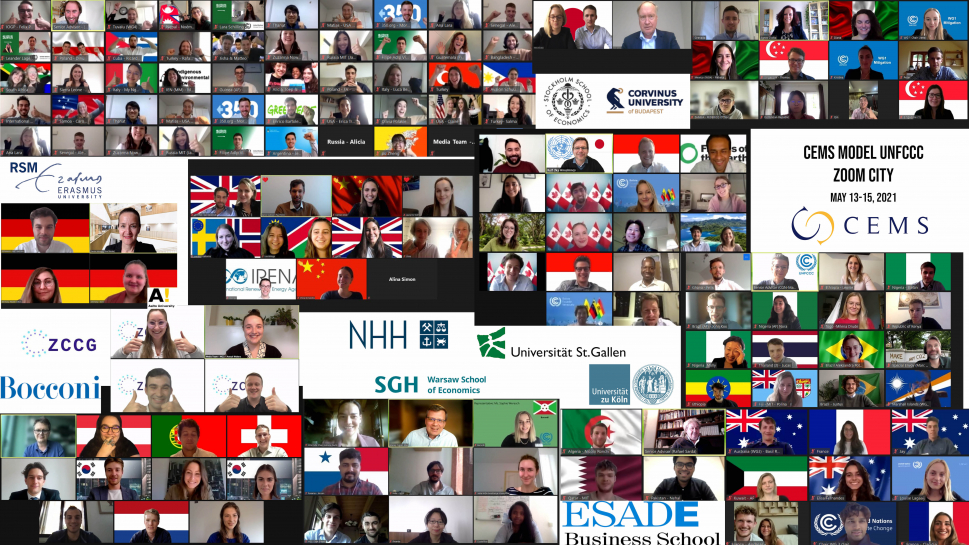 CEMS Model UNFCCC Conference 2021
New Generation Consulting (NGC): A New Approach To Consulting
NGC offers a new approach to consulting, where international students - pursuing a CEMS Master's in International Management - work in virtual teams and act as consultants to help social organizations overcome business-related problems. The projects are led and supported by successful members of the CEMS Alumni, who are sitting in the offices of the biggest tech giants, consultancies, charities, or in the CEO chairs of some of the most innovative start-ups. They are also working in close collaboration with top consultancies such as McKinsey, BCG, and Bain, who provide advice and mentorship to the teams. Learn more: http://www.ngccems.org/ngc-home