The CEMS Global Alliance is the collaboration of academic institutions, corporate and social partners, and alumni working in over 100+ languages to forge a global mindset within emerging business leaders . The CEMS difference is that all parts of the network actively engage to create value for each other. Across experiential learning, consulting projects, skill seminars with professionals and an active CEMS Career Center — CEMS has created a seamless link between each stakeholder within our alliance, making sure we're all aligned on equipping students to lead the workforce of the future. This includes a unique kind of collaboration where faculty working within CEMS Academic Member Schools collaborate globally to work on shared areas of interest, like:
Global Leadership and Cross Cultural Management (GLCCM)
The globalization of business and industry generates an increased demand for global leadership potential. Managers of tomorrow need to be able to maximize organizational performance and business results in a complex, dynamic and changing environment. Yet, it is human interactional competences, and an ability to use cultures as a resource for global organizational effectiveness as well as knowledge, that differentiates successful leaders.
Who we are
The purpose of the GLCCM faculty group is to provide a platform for education and research in the field of global leadership and cross-cultural management and to inspire and support faculty members in creating innovative and engaging learning programs according the CEMS mission: preparing future generations of international business leaders contributing to a more open, sustainable and inclusive world, based on international perspective, business embeddedness, responsible citizenship, reflective and critical thinking and comprehensive leadership.
What we do
To identify and cultivate key global competences of CEMS students and prepare them to take leadership roles in complex international settings.
To develop culturally intelligent leaders and globally responsible citizens with a broad and global perspective what is going on in our world.
To promote social- and self-awareness to support comprehension and international collaboration in a culturally dynamic world.
To learn how to utilize complexity as an asset and an opportunity for achieving best results in international alliances and global business firms.
To provide research-based knowledge and practice applications, relevant to global business challenges and global leadership.
To lead innovation in the field of education, research and practice in global leadership challenges and cross-cultural management issues.
To develop, share and disseminate knowledge in the field of global leadership and cross-cultural management to provide students innovative and engaging learning experiences.
Business and the Environment
Issues such as climate change, resource scarcity and ecosystem services degradation have captured the attention of much of the business community over the last few years. In a world that is getting more complex and fragile, managers need to take into account that their actions are going to produce durable impacts on how we live. Sustainability has become a competitive issue for every company. 
Who we are
The Business and the Environment Faculty Group started its activity in the mid of the '90 with the idea to analyse and teach the managerial implications of the relations between business and the natural environment.  We aimed to transfer shared visions, scientific background, analytical tools and techniques to our students to better understand and manage the challenges of sustainability and the opportunities related to the greening of corporations.
We have done this by implementing  innovative pedagogical approaches (the CEMS Block Seminars were  designed and introduced by our FG) and through interdisciplinary contributions (our faculty is grounded in a broad variety of disciplinary fields: management and economics, chemistry, biology, mathematics).
What we do
Since 1997 we have offered more than 30 block seminars to CEMS students, involving a number of leading organisations and CEMS corporate partners as guest speakers. Our faculty group aims at mainstreaming sustainability and environmental issues into business education. We share deep passion for what we teach and we try to transfer this passion to our students.
Through block seminars and faculty group meetings, we have continuously exchanged skills and competencies, favouring the development of new innovative contents and the improvement of teaching techniques. Our faculty group, moreover, has developed an innovative course based on a simulation game teaching  innovation  (CEMS Model UNFCCC), where students are involved in active negotiations in order to find solutions to global climate challenges. This Climate Change Strategy Simulation is now taught simultaneously in a number of CEMS schools.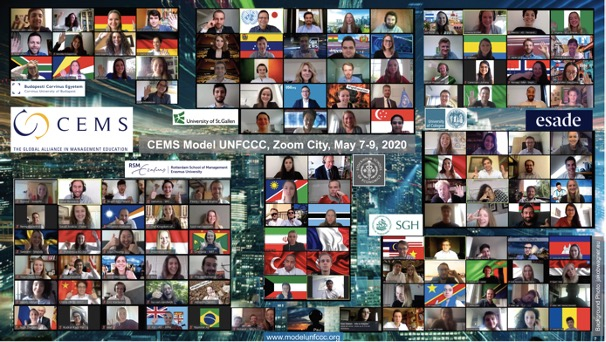 This faculty group has already favoured the development of collaborations at the PhD level among schools. We envisage to strengthen this aspect in the future, providing doctoral workshops and education on the topics covered by our team. Finally, the faculty group aims at promoting joint research activities and co-authored publications among its members.
Join a CEMS Faculty Group
The Faculty Group welcomes all interested CEMS faculty members to participate and contribute. The faculty groups exchange knowledge and experience and members inspire each other in online exchanges of valuable practices and an annual faculty meeting in one of the CEMS universities to exchange and develop rich learning experiences and collaborate in research and publications.