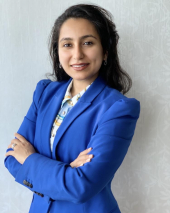 More info
The CEMS Global Alliance is a purpose led organization, powered by our beliefs that great leadership starts with self-leadership and societal progress requires continual exploration. In this series of interviews, we take a look at CEMS students and alumni that are contributing to make this world a more open, sustainable and inclusive world.
Humans of CEMS: 

We stand on the shoulders of giants
Today, in our Humans of CEMS series, we meet CEMS Alumni of the Year Akanksha Batura Pai - Head of Strategy & Growth at Sinoda Shipping Agency, Council Member of the Singapore Shipping Association, IMO Goodwill Maritime Ambassador, and much more. Akanksha graduated from the National University of Singapore in 2014, having spent two exchange semesters at the London School of Economics & Political Science and Bocconi University. Since then, she has been working in shipping and logistics, while also actively participating in international alliances and initiatives to support cooperation and societal development, specifically focusing on vulnerable groups.
1. 

Please, tell us a little bit about the projects and initiatives that you are currently participating in.
Since graduating from CEMS in 2014, I have joined the shipping and logistics industry in Singapore. I am proud to be part of the vibrant and vital maritime community in Singapore - the world's leading International Maritime Centre – and try to give back wherever I can. In the past, I have served at the Singapore Indian Chambers of Commerce and Industry (SICCI) as an Exco-member of the Youth Executives Network (YEN). I also volunteer with the Singapore Logistics Association (SLA) as an emcee on ad-hoc events as requested by them.
Currently, I am the Chairperson of the Young Executives Group (YEG) at Singapore Shipping Association (SSA) and am also a Council Member at the SSA - a dynamic trade organization that links the private sector with the public sector. I had the privilege to be selected for this position last year at the age of 31, and am one of the youngest Council Member to ever serve on the Council.
 In addition, I have been appointed by the government of Singapore - The Ministry of Transport - to serve as Singapore's Goodwill Maritime Ambassador (GMA) at the International Maritime Organization (IMO). In my capacity as the Chairperson of the YEG and as the IMO GMA, I engage youth in Singapore and around Southeast Asia and advocate for the maritime industry. I actively synergize with relevant government agencies and Institutes of Higher Learning (IHLs) to engage with the youth and educate them about the importance of the maritime industry and encourage them to join the industry.
Furthermore, I work as the Head of Strategy and Growth at Sinoda Shipping Agency Pte Ltd, a well-established port agency in Singapore. I am also a Strategy Consultant at RAKS International Pte Ltd (a logistics company) and at TransAsia Marine Services Pte Ltd (a transport solutions provider). In the last few years, I have worked on overhauling each of these companies' digitization efforts by developing and implementing proprietary software solutions to increase the operating efficiencies of each company. As all these companies are SMEs, and Singapore is strongly focused on getting SMEs in the shipping and logistics sector digitized. Sinoda and my work have been covered in marketing material and collateral by the Infocomm Media Development Authority to showcase our work and to encourage other companies to also embark on their digitization journeys. I continue to contribute and work closely with the Maritime and Port Authority of Singapore, Enterprise Singapore and various other stakeholders to digitize our maritime industry further.
 Lastly, I also hold some other positions. I am the Liaison Officer at The Hon. Consulate-General of Malta to Singapore. In this capacity I work to strengthen diplomatic ties between Malta and Singapore by representing Malta strongly at cultural events - such as the annual European Union Film Festival. I have also worked toward furthering economic growth between the two countries by organizing the first ever Singapore-Malta Business Forum 2019 (pre-pandemic) and by promoting Malta's tertiary education opportunities to students in Singapore at the Study In Europe 2019 higher education fair (also pre-pandemic).
 During the Circuit Breaker in Singapore, I learnt how to crochet using YouTube tutorials and crocheted necklaces and accessories and sold them to raise funds for all the vulnerable groups most affected by the Covid-19 situation in Singapore. In all, I raised approximately SGD 2,500 and all of this was donated to institutions that deal with the vulnerable groups of migrant workers such as "TWC", "Its Raining Raincoats", "HealthServe" and also "Love Nils", an organization that assists children suffering from cancer. I still run charitable initiatives whenever I get the opportunity by selling handmade items on my Facebook and Instagram account @TheReinaProject. 
I have now started two small businesses from my passion projects - @TheReinaProject and @ReinaBaubles. The former sells handmade crochet items and the latter sells jewelry especially curated from artisans in India. 
I wear many hats but the most special one to me is being the President of the CEMS Local Alumni Chapter Singapore and contributing to the CEMS alumni based in Singapore. I have been serving in this position since I graduated and have managed to bring up the numbers of alumni in Singapore formally involved in CEMS activities by active outreach. I also started a WhatsApp chat along with Facebook groups dedicated to bringing CEMS alumni in Singapore together (as these solutions didn't exist earlier and the alumni data was not collated). Along with active alumni in Singapore, I also spearheaded the formalization of the CEMS LC Singapore Board. Now, the CEMS LC Singapore is a dynamic group with 100+ active members. 
2. 

Being head of strategy and growth at an international shipping agency, what do you think are the key skills and areas of knowledge that help you to be successful in your position?
One needs a combination of soft and hard skills to function well in their vocation, but I will highlight the skill sets that I feel are valuable to most professionals. 
Interpersonal/ EQ Skills - In this highly globalized and ever more virtual world, it is helpful to be able to connect with people on a "human" level. Being able to find common threads and develop meaningful relationships with peers, colleagues, juniors, bosses, and clients is paramount in not just getting work done, but to actually enjoy your work. 
Lifelong Learning - As you age, and you spend longer in the workforce you realize how quickly the knowledge you've gained in your tertiary institutions needs to be supplemented. It is advisable to keep renewing your skills and this does not have to be limited to within your industry. In the years to come, the problems faced by humankind will need to be solved by minds who have interdisciplinary knowledge. Hence supplementing your knowledge by formally learning or even informally reading about new subjects can also future-proof your employability. 
Negotiation Skills - Regardless with your parents, siblings, partner, clients, bosses (and especially young children) - this skill is undoubtedly of paramount importance. Being able to effectively communicate your needs from a relationship or a transaction, while simultaneously being mindful of the necessities of the other party is a skill set that may feel like common sense but needs some research and practice. Negotiation is a combination of good intel, EQ and a healthy amount of practice. If you're angling for a raise or looking to close a deal - do your research to know appropriate figures, remain respectful yet firm, and remember if it doesn't work sometimes, it's just a learning opportunity. 
3. 

You have a lot of experience working with governments and chambers of commerce. How do you approach this area of work? Are there any notable differences from the regular business environment?
I have spent a large part of my professional life giving back to the business community, my shipping and logistics industry and to my alma mater by partaking in volunteer work. 
If you have the time and the inclination to do so, I would highly encourage you to also extend yourself to these causes. Doing so helps you to glean a clearer understanding of the general business environment in your industry, country or region. 
Working with government agencies, I have learnt that these institutions seek out driven, committed, passionate and resourceful individuals. Many of these agencies are strapped for resources but have firepower in terms of dynamism; these institutes hence rely on bootstrapping to fulfill their goals. If you are resourceful, can re-frame problems to adopt achievable solutions, and can work out creative solutions to obstacles - then working or volunteering with government agencies or government-associated institutions is your calling. And well, if you don't have these skill sets, working with government agencies will teach you this. 
Being able to communicate well with people from many walks of life is also an important skill set as you need to develop many interpersonal relationships in order to meaningfully give back to an endeavor. 
Basically volunteering with these organizations is not very different from the regular business environment. It is, in fact, more work than your 9 to 5. And bear in mind - the reward for hard work is more work. 
4. 

What would you consider your biggest achievement?
My biggest achievement has been the culmination of little accomplishments this last year. 
In early 2021, I launched my two passion projects and small businesses @ReinaBaubles and @TheReinaProject. In mid-2021, I gave birth to a little baby girl. Right after, I was selected as the Chairperson of the Young Executives Group (YEG) at the Singapore Shipping Association (SSA) and was also nominated as the International Maritime Organization (IMO)'s Goodwill Maritime Ambassador representing Singapore. I then was nominated and won the CEMS Alumni of the Year Award (Mid-Career Category). 
After giving birth, I have renewed respect for mothers - especially the ones who also juggle (any sort of) work - be it heading to the office, working from home, or even mom-preneurs. And I now endeavor to keep growing personally and professionally while trying my best to be a good role model for my little one and also surround her with fabulous, confident and driven women to look up to. 
"Here's to strong women. May we know them, may we be them, may we raise them."
5. 

How has CEMS contributed to your career?
I do not know how to measure how much CEMS has contributed to my career, but I can attest that CEMS has, without a doubt, molded my personal and professional life. It has given me a world-class and inter-disciplinary relevant education with plenty of opportunities to not just travel but also live abroad, work experience with exciting companies and products and most importantly, compatible and like-minded friends for life. 
6. 

What recommendations would you give to future CEMSies and those who are about to graduate?
I am sure you will find plenty of professional advice out there, but I will leave you with a few tips that are evergreen - personally and professionally. 
Choose kindness always - You never know who has had a bad day, so always choose to be kind even when met with unkindness. It is the choice that always leaves your conscience clear and compels others to also be kind and courteous. 
Practice gratitude - Starting your day or dedicating a small portion of your day to counting your blessings or being thankful for your opportunities/situation can put you in a better mood overall and even increase productivity. 
Speak up for yourself and the marginalized - If you are a woman, you may have come across and found this saying relevant: anytime a woman speaks up for herself, she speaks up for every other woman. The same is the case for minorities and the marginalized. When you stand up for the rights of the marginalized, you help in creating a more equitable world for everyone and most especially for the future generations. 
"We stand on the shoulders of giants." My achievements today - as a woman and a minority - are a culmination of the efforts put by the many generations before me. We must keep speaking up to provide a fair opportunity to all.