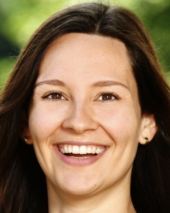 More info
The CEMS Global Alliance is a purpose led organization, powered by our beliefs that great leadership starts with self-leadership and societal progress requires continual exploration. In this series of interviews, we take a look at CEMS students and alumni that are contributing to make this world a more open, sustainable and inclusive world.
Humans of CEMS: Do something different to create a positive change
After graduating from the CEMS MIM in 2017, Angela became president of Student Impact, an organization that advises social and sustainable startups in business-related areas and sensitizes students for more sustainability in the business world. After that, she co-created a global call for innovation on sustainable packaging solutions with Ashoka, an NGO supporting social entrepreneurs from all over the world. In parallel, Angela started her PhD on innovations for basic needs which improve the quality of life of people living in poverty. To transfer her theoretical work into practice, Angela joined the International Finance Corporation of the World Bank Group as a Mercator fellow to accelerate social inclusion and economic growth in low-income countries. She is now working at UE LifeSciences, an international healthtech company bringing early detection of breast cancer to women in underserved areas. 
Tell us about your background: Where are you from? Where are you now? And what was your CEMS path? 
I'm from Switzerland, where I started my CEMS journey at the University of St.Gallen and then continued at HEC Paris. For the last couple of years, I have worked and done research on innovation for international development. Currently, I'm in Mumbai in India, where I work at the women's healthtech company UE LifeSciences focused on bringing affordable breast cancer screening to women who don't have access to traditional screening technologies. In parallel, I'm wrapping up my PhD on innovation for basic needs and how non-profit organizations and social enterprises can work together to bring new technologies to underserved communities.
How does UE LifeSciences address the issue of accessible breast health?
The goal is to bring breast health to women everywhere. The standard for breast cancer screening is still mammography, a screening of the breast tissue using radiology. However, this is simply not available to every woman worldwide. Our device is for women that don't have (regular) access to these technologies. It is a handheld scanner that is portable and more affordable than a huge mammography machine. If needed, you can bring it to a local community or even to home visits, if patients cannot afford to visit a clinic that might not be close by. The scanner works by sensing the elasticity of the tissue and detecting lumps that are stiffer than healthy tissue. The clue is that the device is very easy to operate and that it can be used by primary healthcare workers after minimal training. This means that it doesn't rely on specialists that might not be available in underserved communities. Even I, who clearly doesn't have a medical background, have been trained on using the device and have done screenings on women. And that's what I like so much about my work here. It's very impactful and I can use my business skills to help the company grow, but it's also very hands-on - literally. 
What is the goal of these innovations?
The ideal scenario is to have both a positive societal and environmental impact. With our device, there is a strong focus on reducing the resources that are required to develop the product. This has of course an environmental impact, if you manage to provide the same level of quality by using fewer resources. But it also has a social component, because by reducing the costs you increase the accessibility of the solution. Beyond the costs, there can also be accessibility barriers arising in areas such as the level of formal education of the people that use the device. Thus, it's also important to develop solutions that are simple and easy-to-use for them to be applicable in resource-constrained environments.
Our main target market for this solution was and still is India. However, the Covid pandemic demonstrated that the healthcare system in the US also has some considerable gaps and that the women there could also profit from this device. Now, one of our strategic focuses is to bring the device to the US. This is the beauty of innovations that were initially developed for countries with fewer resources, but then also proved their potential for Western markets. This really shows that the device is not just a "good-enough" solution for people that don't have access to other technologies, but something that can be of value to women across the globe.
Students from business schools often look at problem solving as if the best solution is the one that generates the most profit, often overlooking problems which might be more socially or environmentally focused. What do you think about this? 
 I think the best-case scenario is something that is financing itself so you're not dependent on fundraising or government grants. But this may leave out a lot of people with very fundamental problems. In the area of my PhD, assistive technologies (visual aids, mobility aids, etc.) for underserved communities, there is not too much money to be gained directly from these users, as they simply do not have the means to buy these products. Thus, most of the organizations that I was looking at have hybrid models, which in one way or the other also had non-profit aspects to them. Some of them would raise funds in parallel to their revenues and most of them were looking for government adoption in the long-term. Their goal was to build evidence through projects to show the local, regional, or national government that their solution was working and that they provide value to people. The goal was for the government to eventually adopt the solution in its healthcare plan. So not being completely self-reliant does not mean that you will always have to raise funds or donations to keep your innovation going. There are many different "exit" strategies.
Can you give an example of an assistive technology?
One of the case studies that I looked at is a product called OneDollarGlasses. As the name suggests, these glasses cost about $1 to manufacture. They are produced from a wire, meaning that they are extremely robust. If you accidentally drop them or step on them, they jump right back into shape or at least they can be bent back into shape with a little heat. This bending machine does not require any electricity and has a very simple color coding for different sizes of glasses. The glasses are so simple in design that local employees can make them themselves after a few weeks of training and often produce them in under 30 minutes. This means that if the team visits remote locations to carry out eye tests, the glasses can be made directly on the same day without the need to go back to manufacture the glasses somewhere else, thereby risking losing the money or the access to the patients in the meantime. This is a fantastic example of a life-changing innovation that has such a huge impact on the life and the livelihood of millions of people. If we focus on getting those essential technologies to people, we can really put a lever into motion when it comes to development because these are tools for self-help and opportunities to pursue a job and have an income. 
Have you always been interested in various forms of innovation, or do you see any trends in your background that have pointed towards this direction?
I've realized that I feel more at home in an entrepreneurial environment, when I am part of a smaller organization, when I can still move things, and when things happen very quickly. Combining this with an impact perspective, which is where the concept of social entrepreneurship comes in, was where I felt that my skill set can contribute to creating a long-lasting positive impact by helping these innovations thrive and unleash their full potential. That's what I enjoy and that's where I feel I can really contribute.
If you come from a business background, often, a lot of your time is spent on creating spreadsheets or presentations. This hands-on approach of my current work is such a welcomed change that allows me to see how our device is impacting people's lives. And we're talking about people's lives and livelihoods. This is healthcare, this is an important part for everyone. And seeing how our solution is applied in real life, going door-to-door to screen women in their homes, to me, this is so much more fulfilling than working in a larger organization that is more distant from where impact is happening. 
Would you have any advice for CEMSies who are about to start off their professional career?
 Sure, I guess I have two pieces of advice. The first one is to differentiate between field and role. The field that you want to work in and the role through which you want to tackle this field are two very distinct and very important thoughts. For me, the field was social impact in the development field. But I never really knew what my daily job should look like until I asked myself through which lever do I want to approach this field.
Let's say you're very passionate about a role in IT, then there are many different fields in which you can apply these skills in. But if you're passionate about sustainability as a field, that might come first. And you can then decide to approach it from different roles: as an impact investor, an entrepreneur, an activist, a lawyer. I think this is an individual decision and there's no right or wrong way on what to prioritize. 
The other piece of advice is to do something different. I'm not saying this from a "be-the-change" perspective, but as advice for advancing your professional career. I profited a lot from different networks and communities, which are often looking for people that do something more unique. If you do something that no one else is doing, this really makes you stand out and might open doors that you would not have access to on a more traditional path.