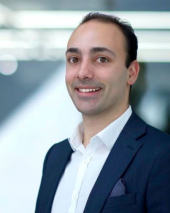 More info
In a global business landscape that's constantly changing, the most valuable skill a person can have is the ability to adapt. CEMS has spent over 30 years refining a unique curriculum with a focus on developing a global mindset that's delivered locally, in collaboration with the top academic institutions all around the world. Coursework is given real-world application through our close alliance with corporate and social partners — creating invaluable connections, collaborations and experiences. Many CEMS students and graduates have chosen to work with CEMS Corporate Partners. In this interview series, we investigate how they have been doing.
Today, we catch up with Christopher Royle who completed his CEMS MIM programme in 2015 with HEC, France and Stockholm School of Economics, Sweden. He is currently working in Shanghai on EF's latest venture called Travel Plus.
1. Why did you choose to work with EF?
The Education industry, the range of projects, the quality of mentorship and the promise of travel were all intriguing, but what really stood out for me was the interview process; significant attention was finding a position and a mentor that matched my interests and background. The personal touch goes a long way!
2. Can you tell us a bit more about your role at EF?
I work EF's latest venture called Travel Plus, an outbound experiential travel business for the Chinese market where my job is to understand our customers desires and design and execute international experiences that they are willing to purchase.
3. What is a typical day like at EF?
As a startup, change is the only constant! Most days involve working with teams in Boston, Shanghai and Luzern to make daily improvements to some aspect of the services we offer. That and several coffee's in one of our new modern offices.
4. How did you get the job?
Several interviews with senior EF staff, an assessment centre in Stockholm, meetings with potential mentors, and a final-round call with the mentor I was matched with.
5. Can you tell us something that most people don't know about working at EF or the organization itself?
Many people aren't aware of the scale of EF. With 580 schools and offices located in 52 countries you can't get far without finding a familiar logo (or a Wi-Fi signal)! And yet, the 50,000 person team still feels like a small startup.
6. What has been the highlight of your job so far?
The operations team I worked with pulled off a 2000-person conference in the Middle of Iceland on the theme of the Future of Energy. Seeing students take inspiration from tours under the Northern Lights, interaction with peers from across the US, and speeches by the Icelandic President and US Secretary of Energy and transform this into tangible projects was very cool!
7. What makes working at EF unique?
The number of languages spoken and international experience of the people in each office is unreal.
8. How has your CEMS MIM degree helped in your role?
The international experience, second language acquisition, and problem-solving skills that a CEMS degree imparts were all very helpful. Peer recommendations on airline loyalty programs continue to pay off.
9. What advice would you give to anyone considering to work with EF?
Get the large-sized passport. You'll need all the pages!