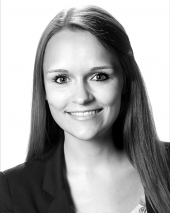 More info
Many CEMS graduates have chosen to work with CEMS Corporate Partners. In this interview series we investigate how they've been doing. Today, we catch up with Lysann Swoboda, who graduated from CEMS just last year, completing her CEMS year at the University of Cologne and the Nova School of Business and Economics. She is currently a Global Graduate Associate at AstraZeneca.
1. Why did you choose to work with AstraZeneca?
I choose to work for AstraZeneca because I was convinced by the company and the graduate programme. "What science can do" is AstraZeneca's slogan, which in my eyes shows the core of the company, namely developing and manufacturing new medicines, which can change the life of millions of people.
Contributing to that objective by ensuring a safe supply of medicines and helping patients in the end, motivates me enormously. Currently, there is a lot of change AstraZeneca goes through. In the next 5 years the company will launch 10 new medicines, from which 50% are biologics, which involves significant changes in the supply chain and brings new challenges for all operations and IT areas.
Additionally, I was convinced by the culture and the values AstraZeneca promoted. AstraZeneca has a really welcoming, open and supporting culture as well as strong values the whole company follows. Another important point, which made me work for AstraZeneca was the commitment, which was shown during the application process to the graduate programme. For example, during the assessment center I had an interview with the site manager in Hamburg, the senior leader of EMEA distribution, but also current attendees in the graduate programme. Moreover, the programme is structured around 'experiential learning', which gives participants the opportunity to work in real roles across a number of different functions in diverse teams in our global business.
2. What do you do there?
I am a Global Graduate Associate and spend 2 years rotating between 3 different functions, which can be chosen very flexibly between Manufacturing, Distribution, Supply Chain Management, Procurement, Commercial Procurement, Forecasting and other functions. I will spend at least one placement abroad, which is possible worldwide at all Operations-focused countries, such as Sweden, UK, USA, Brazil, Argentina, China, India, Japan or Australia, but also in almost all other countries, where the focus is more on commercial activities.
My first placement I am currently spending in Distribution and Supply Chain Management, ensuring a reliable supply and managing that products make it into pharmacies and hospitals in Europe. In particular I got the lead role for managing a change management project improving transparency in the supply chain as well as managing another project for building a new cold storage.
3. How did you get the job?
I applied for an interview during the CEMS Career Fair, which led to an offer after an assessment center in Hamburg.
4. What has been the highlight of your job so far?
Going into manufacturing of tablets and vaccines as well as leading two major projects in distribution as part of my first role in the company.
5. What makes working at Astra Zeneca unique?
From a business perspective, the company goes through a lot of changes right now. AstraZeneca has a really strong product pipeline. During the next 5 years the company will launch 10 new medicines, from which 50% are biologics, which requires different concepts in procurement, manufacturing and distribution.
AstraZeneca has very ambitious goals. The PharmaCo wants to be a 50 billion $ company by 2025 (2014: 26 billion $), which is really exciting to accompany and support to achieve. What I felt in my first months from a corporate culture perspective is that AstraZeneca has a very welcoming and helpful culture. A lot of emphasis is put on its values, which include: (1) We put patients first, (2) We follow science, (3) We play to win, (4) We do the right thing and (5) We are entrepreneurial. AstraZeneca wants their people to feel positive and enthusiastic about what they are doing, with a clear sense of purpose and confidence in their abilities to meet the challenges. This means providing effective leadership, clear targets, open lines of communication, excellent learning and development opportunities and a healthy, safe and energizing workplace – within a performance culture where diversity is valued and individual success depends solely on personal merit and performance.
6. How has your CEMS MIM degree helped in your role?
The mission of CEMS includes preparing students in a multilingual and multicultural way for the interconnected business world. Working in supply chain management at AstraZeneca requires cross-cultural understanding since I am working in multinational teams and together with our supplying sites around the world in Australia, the USA, Sweden or the UK.
Additionally, the CEMS program puts a lot of emphasis on developing team and leadership skills, which I can now benefit from and further develop during my graduate placements. Another nice thing is that you find many CEMSies in AstraZeneca since it is a CEMS Corporate Partner. The CEMS experience everybody shares provides you with a good basis to build a further relationships.
7. The CEMS programme is often considered to be a bridge between the academic and corporate world. Would you agree with this assertion?
Yes, the statement is definitely true. CEMS was built on the vision of creating a bridge between the academic and corporate worlds. During the CEMS programme you get many opportunities to get to know companies from different industries and of different size through obligatory business projects, skill seminars or guest lectures. Moreover, corporate partners actively participate in the development of the CEMS programme. This brings e.g. a lot of practical and currently important aspects into the management education, which is great for both students and future employers.