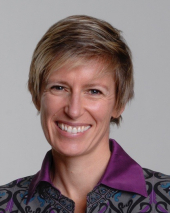 The CEMS Alumni of the Year is a joint campaign by the CEMS Alumni Association in close collaboration with the CEMS Student Board, which gives the CEMS community the opportunity to learn about CEMS alumni on a monthly basis and vote for the favorite candidate as the CEMS Alumni of the Year.
Meet Karin Jestin, who is the July candidate for the CEMS Alumni of the Year 2016 election. Karin graduated from CEMS in 1993 from HEC Paris with her exchange at University of Economics, Prague. She is currently the Strategic Philanthropy Advisor, PHI, Geneva. 
1. How would you describe yourself in a tweet? 
Passionate about social impact. Smart and agile, works across sectors and cultures to make things happen. 
2. What are the three most important things that have personally shaped you?
Experiencing the marvels of underwater biodiversity as a teenager.
Backpacking as a student around the world, feeling welcomed by so many different communities.
Realizing we are now more than 7bn people on the planet whereas I was told 4.5bn in primary school.
3. How did the CEMS network contribute to your professional achievements?
CEMS contributed to shaping my identity as a European / world citizen. It helped me grow the feeling that I could settle anywhere in the world, I would always be able to find and connect with like-minded individuals, people ready to share a same dedication to make our world a better place for all. 
4. What advice would you give current CEMS students?

Work as hard, if not harder, on your social and emotional skills as on your academic ones. Thrive to find the beauty in others and remember the African proverb "if you want to go fast, go alone. If you want to go far, go together".  
The voting for the Alumni of the Year 2016 will take place end of October among the CEMS community and will take place in our social media communication channels, where the winner will be announced in the begin of November.