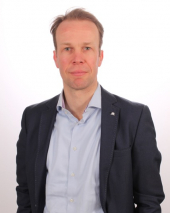 More info
The CEMS Alumni of the Year is a joint campaign by the CAA in close collaboration with the CEMS Student Board, which gives the CEMS community the opportunity to learn about CEMS alumni on a monthly basis and vote for the favorite candidate as the CEMS Alumni of the Year.
Meet Robert Kroon, who is the March candidate for the CEMS Alumni of the Year 2016 election. Robert graduated from CEMS in 2007 from Rotterdam School of Management, Erasmus University with his exchange at University of St.Gallen. He is currently the Director of Finance at Bosch KW, Atlanta, USA.
1. How would you describe yourself in a tweet?
Business driven finance person, with an international and people orientated approach.
2. What are the three most important things that have personally shaped you?
Apply at the RSM for my study business administration and going through the CEMS program (Internship India, Exchange St. Gallen) as well to become father. ;-)
3. How did the CEMS network contribute to your professional achievements?
Via CEMS you get a more international orientation, instead of just being specialized in a subject. By the program you learn to adapt to work close with other cultures. CEMS has given me a huge advantage during job application.
4. What advice would you give current CEMS students?
Go abroad as a student and as a young professional as early as possible. it shapes you more than any other activity next to your study.
The voting for the Alumni of the Year 2016 will take place end of October among the CEMS community and will take place in our social media communication channels, where the winner will be announced in the begin of November.