Career Forum - Student & Alumni
The CEMS Career Forum is a CEMS Community-exclusive event taking place online from November 1 to November 5 with a live day on November 5. CEMS Corporate Partners will offer many activities and interact with you through skill seminars, CV advice sessions, career workshops, live presentations, one-on-one chats & pre-scheduled interviews and career booths.
It will be a unique chance for you to discover many career opportunities offered by our CEMS Corporate Partners. Meet and interact with leading global companies, learn more about opportunities for internships and permanent employment, and broaden your network online by participating in the CEMS Career Forum 2021.
Find out more information about the event below. To register, connect on your student portal to access the brochure or on the CEMS Alumni Platform and mark all the deadlines in your calendars. 
Event overview
Accredited skill seminars:
The accredited skill seminars are a unique opportunity to develop your talent. This is a one-off chance to acquire knowledge from the Corporate Partners and exchange it with fellow students in a truly global setting. Each skill seminar will be available for 10-25 CEMS students and will be held online between November 1 and November 4. You will be assigned to a skill seminar on a random basis, taking into account registrations submitted per 24-hour slots. For instance, students registering at any time between 29 September at 2pm CEST and 30 September 2pm CEST will have an advantage compared to students registering at any time between 30 September 2pm CEST and 1 October 2pm CEST etc.
Skill seminars will take place during different dates and time slots, please make sure that you are available during the offered time before registering to one seminar. 
Individual CV Advice Coaching
Online CV advice coaching are individual workshops for students to get guidance from recruiters about how to make the ideal CV. Get tips from professionals about how to improve your CV and enhance your chances to get selected for a pre-scheduled interview or 1-1 chat during the Live Event Day, on November 5. During this 15-minute individual chat, you will receive personalised feedback on your CV from a CEMS Corporate Partner. Spots with corporate representatives will be assigned on a first come, first served basis.
Career Workshops
Career workshops are exclusive training sessions which aim to provide CEMS students with practical tools to help the in their job search, job applications, interviews and career path. These trainings will be organised by CEMS Corporate Partners throughout October and will focus on improving students' abilities in a job interview, CV preparation or other career development topics. Places are limited to a small group of students and will be assigned on a first come, first served basis.
Pre-scheduled interviews and 1-1 chats
The CEMS Career Forum offers students and young alumni (0-5 years after graduation) the opportunity to make up to 10 requests for 15-minute 1-1 chats and pre-scheduled interviews or 30 or 60 minutes with corporate representatives attending the event.
Pre-scheduled interviews are 30 or 60-minute interviews with Corporate Partners. It can be a pre-screening interview, mock interview or formal interview with a representative via private video chats. 
1-1 chats are short 15-minute pre-scheduled meetings which ca be a meet and greet, a "Ask Me Anything" session, a mock interview or a coffee chat. 
Both formats are ideal opportunities to make a first career move, exchange and get direct feedback and career tips from professionals in many industries. You can find a list of CEMS Corporate Partners offering 1-1 chats or pre-scheduled interviews in the brochure. Please note that this list is not exhaustive is subject to change. 
Live booths
During the Live Event Day, on November 5, you can join representatives at their own live booths. Similarly to an offline fair, employers can answer questions and discuss roles at their companies, talk about their company culture and various other topics. Live booths will be open from 11am to 12pm CET and 4pm to 6pm CET and are a great opportunity to learn fro a CEMS alum, get more information about  a graduate programme, internship offers or new hires opportunities. 
Company live presentations / speeches
Speeches are live presentations on a general topic which can be for instance a company introduction, presentation of a graduate programme or other formats. They are open to everyone and will take place throughout the entire Live Event Day, on November 5. They are a perfect opportunity for participants to gain valuable insights into a company, industry roles, career paths, career advice or trends.
CEMS Startup Challenge
Building on the success of previous years, this event offers students and alumni the opportunity to develop and pitch their business ideas in front of a panel of investor, entrepreneurs and corporate representatives. This event will be held on November 9, as part of the CEMS Career Forum. It includes coaching and networking with experienced entrepreneur and is granted 0.25 ECTS.
You can find more information on the CEMS Alumni Platform and in the brochure.
Event Framework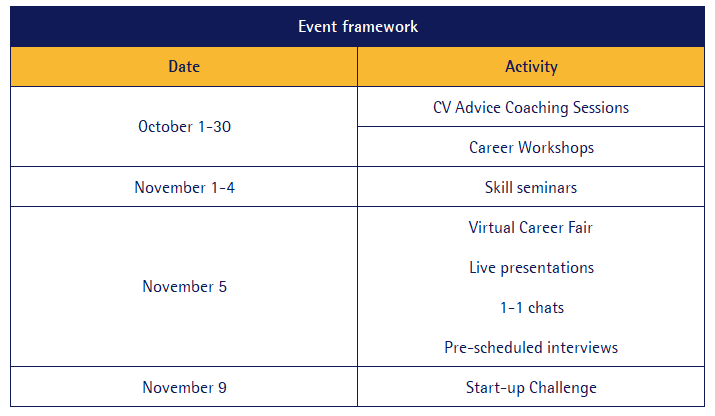 Please make sure to check the brochure for more information about the deadlines. You can find the brochure in your student portal and on the CEMS Alumni Platform.
If you have any issues or questions, please reach out to the CEMS Career Forum Organising Team and send an email to careerforum@cems.org