Are you looking for an entry-level position, graduate programme or an internship offer from one of the world's top recruiters?
Mark down the dates in your calendar to join the Global Recruitment Event from March 1 to 4, 2022. Use this unique CEMS recruiting event to discover exclusive hiring opportunities in consulting, technology, consumer goods, finance, manufacturing and more. Apply for any offers advertised by our participating CEMS Corporate Partners before February 17th and get the chance to be invited to an online pre-scheduled interview and enter their recruitment process.

Registration and applications for this exclusive CEMS event open on February 10th.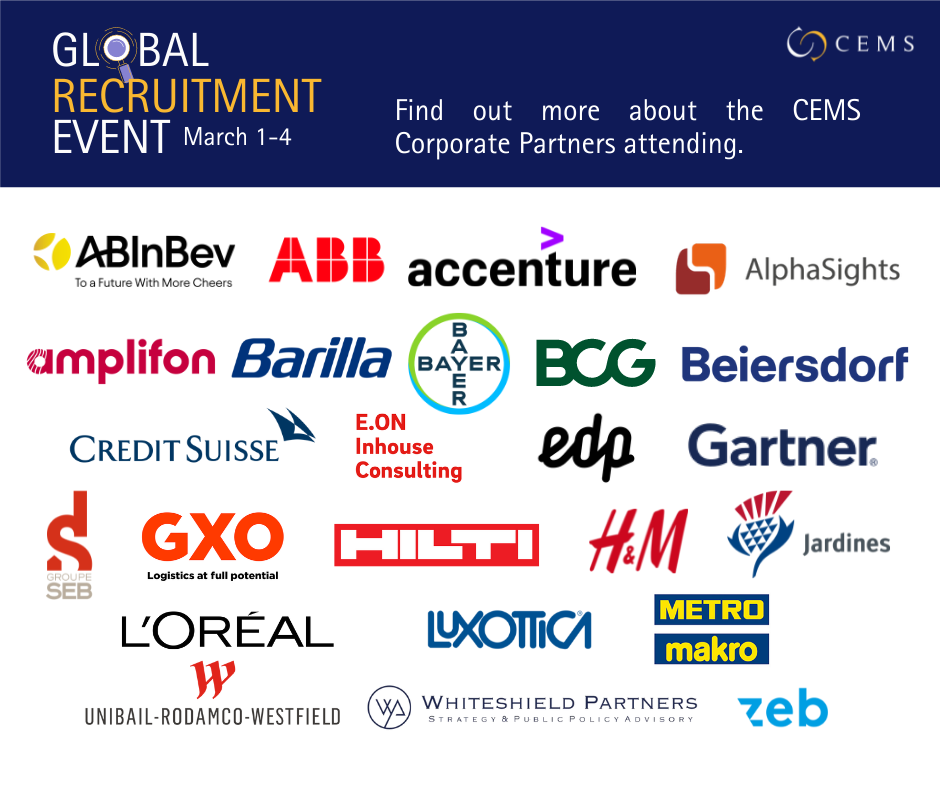 How to register and apply for a pre-scheduled interview or 1-1 chat:
Step 1 - Access the platform by using the link from the email you will receive from CEMS on February 10th. Registration will open at 9am CET / 4pm SGT.
Step 2 - Set up your profile and update your CV with all necessary information
Step 3 - Navigate the platform, browse through the different internship and job offers. Start applying for career positions around the world.
Step 4 - Apply to any of the advertised positions until February 17th. Starting February 18th, employers will review your application and may invite you for an interview or a 1-1 chat.
Step 5 - Once accepted, you will be able to access the recruiters' agenda and select your preferred time slot which is reflected in your own timezone. Please make sure to check your emails regularly between March 1-4.
Need to prep your portfolio before the event?  Or could use some advice from a fellow CEMSie? Connect to the CEMS Mentoring Platform today and gain inside tips regarding potential employers, industries and career paths. Students can access the CEMS Mentoring Platform through their CEMS Student Portal within the Career Center tab at www.cems.org.
Make sure you are all set up for this unique CEMS recruiting event that will take place from March 1 to 4. If you have any questions, please email us at careerforum@cems.org.
We are looking forward to seeing you virtually!