About the Event
Have you ever wondered how can we set ourselves (and others) up for success and "smart luck" in a world full of uncertainty? Dr. Christian Busch's "wise, exciting, and life-changing" (Arianna Huffington) book Connect the Dots: The Art & Science of Creating Good Luck. By learning to identify, act on and share serendipity, we can use uncertainty as a pathway to more joyful, purposeful and successful lives. Christian Busch has studied hundreds of subjects who improved their lives by learning to see opportunities in the unexpected.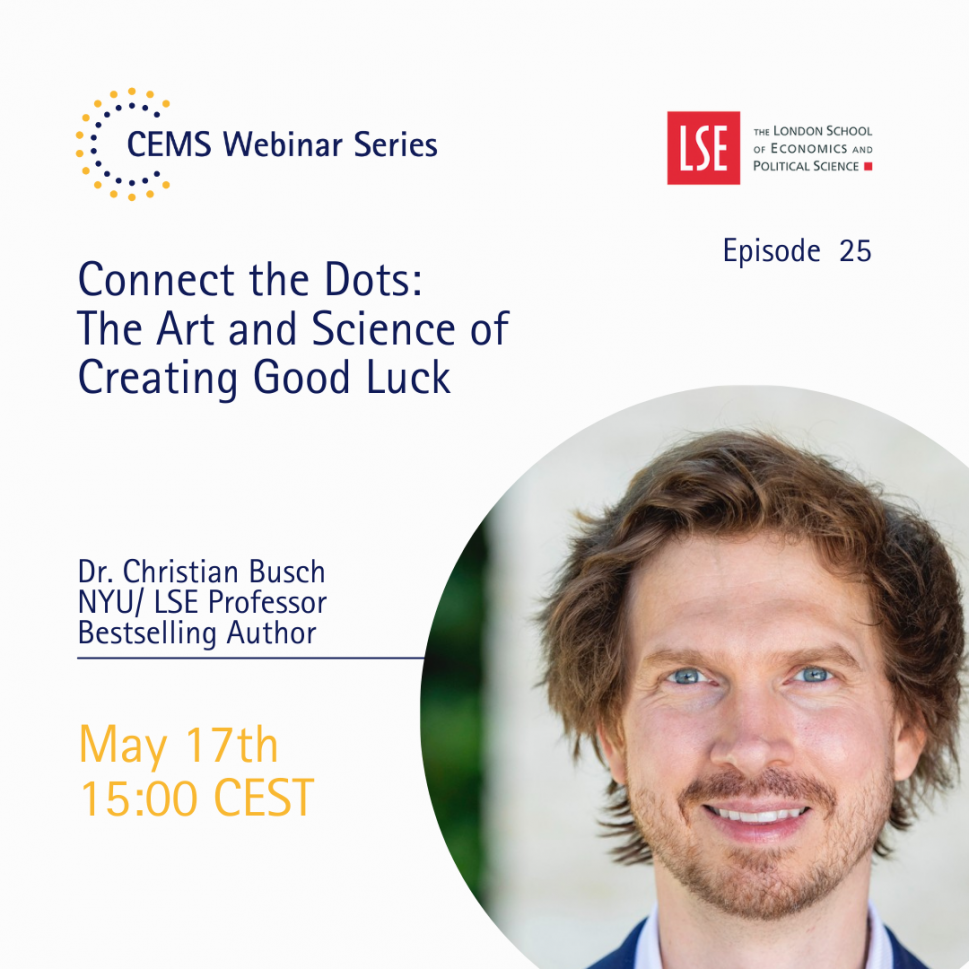 Read more about our speaker: 
Dr. Christian Busch 
Dr. Christian Busch is a world-leading expert on innovation, purpose-driven leadership, and cultivating serendipity. He directs the CGA Global Economy Program at New York University, and also teaches at the London School of Economics. Previously, he co-directed the LSE's Innovation Lab and co-founded the Sandbox Network, a global community of young innovators, as well as Leaders on Purpose, an organization convening leading CEOs. He is a member of the World Economic Forum's (WEF) Expert Forum, a Fellow of the Royal Society of Arts, and among Diplomatic Courier's "Top 99 Influencers" and the Thinkers50 Radar list of 30 thinkers "most likely to shape the future". Christian's bestselling book, The Serendipity Mindset (Penguin Random House), has been highlighted as a "wise, exciting, and life-changing book" (Arianna Huffington) and a "bracing and hopeful antidote to a world addicted to efficiency and control" (Daniel Pink) that "offers practical guidance for all" (Paul Polman).
CEMS Webinar Series' Supporters