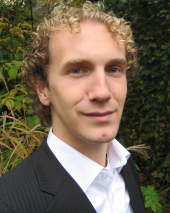 More info
The CEMS Alumni of the Year is a joint campaign by the CAA in close collaboration with the CEMS Student Board, which gives the CEMS community the opportunity to learn about CEMS alumni on a monthly basis and vote for the favorite candidate as the CEMS Alumni of the Year.
 
Meet Joeri van Geelen, who is the January candidate for the CEMS Alumni of the Year 2016 election. Joeri graduated from CEMS in 2011 from Rotterdam School of Management, Erasmus University with his exchange at Norwegian School of Economics. He is currently the Category Manager for Drilling Services at Shell, Sakhalin Energy in Sakhalin Island, Russia.
1. How would you describe yourself in a tweet (max. 140 characters)?
Creative, entrepreneurial, visionary. Driven and destined to build sustainable energy solutions that challenge and disrupt the status quo.
2. What are the three most important things that have personally shaped you?
1. Early loss of my father. His relentless fighting spirit through the most difficult stages of his disease has strengthened and taught me to turn personal downturns into opportunities for growth.
2. Entrepreneurial failure. Started various tech start-ups and learned my pioneering lessons. Crafting personal vision and focus are key to success.
3. Traveling. Enriching, inspirational and fun.
3. How did the CEMS network contribute to your professional achievements?
CEMS instilled a never-ending desire for expanding cultural experience and has endowed me with a far-reaching international network of inspirational friends who shaped me to a more rounded person. As former Vice President of the Global Student Board I have time and again been amazed by the ability of CEMSies to tap into the unprecedented power of diversity and willpower to make a difference.
4. What advice would you give current CEMS students?
Discover and grow your unique personal values and vision, find your true passion, work on your behaviours and embrace continuous personal development. With a positive mindset the sky is not even the limit. Serendipity exists. Last but not least, ensure to uphold your optimal balance across the (for me) most important pillars in life: health, social and professional.  
The voting for the Alumni of the Year 2016 will take place end of October among the CEMS community and will take place in our social media communication channels, where the winner will be announced in the begining of November.