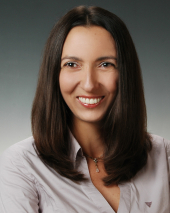 More info
The CEMS Alumni of the Year is a joint campaign by the CAA in close collaboration with the CEMS Student Board, which gives the CEMS community the opportunity to learn about CEMS alumni on a monthly basis and vote for your favorite candidate as the CEMS Alumni of the Year.
Meet Alicja Dworowska, who is a July candidate for the CEMS Alumni of the Year2015 election. Alicja graduated from CEMS in 2005 from Warsaw School of Economics with her exchange at Bocconi University. She is currently working as EMEA Statutory Accounting Manager at Hewlett-Packard.
1. How would you describe yourself in a tweet?
Open-minded leader, effective organizer, who welcomes a day with a large dose of laughter and finishes it with a strong sense of achievement.
2. What are the three most important things that have personally shaped you?
Studying among highly motivated students at top business schools taught me that the sky is the limit and anything is achievable.
The CEMS experience - from the local CEMS-Club, through studying at BocconiUniversity, being in the Student Board, completing an internship abroad andkeeping the CEMS spirit – it allowed me to feel like a real citizen of the world.
My first project at work with full responsibility and subsequent success, which strengthened my professional self-confidence and allowed me to spread mywings at work.
3. What career accomplishment are you most proud of?
 I'm truly proud of being selected a Project Manager of HP 2012 WW FinanceTraining Day, which is a full day of workshops organized at the same time for 8500HP finance employees around the world during one day, who are trained indifferent business, finance and soft skills topics. I managed a team of 12 people who organized the global event, won the EMEA Finance Leadership Boardrecognition and presented project results to HP CFO & CFO Staff.
4. What is the most important lesson you have learned as a CEMS student?
I learnt to never give up on my endeavors to achieve a goal. During my term abroad Europe was in a difficult economic situation and it was very hard to get an internship abroad, especially for a non-EU citizen at that point of time. However, I had never given up on the idea that I would get an internship in Milan, sending almost 100 CVs and cover letters to different companies and thanks to my stubbornness I finally convinced one company to give me an opportunity and hire me as an intern.
5. What advice would you give current CEMS students?
Use the richness of opportunities that CEMS provides to the maximum, try to attend a variety of seminars, meet with companies' representatives and don't hesitate to reach out to Alumni for advice. Always be adventurous, creative and open-minded in finding your right career path and at your graduation you will know which is the best direction for you.
The voting for the Alumni of the Year will take place from mid until end of October 2015 among the CEMS community and will take place in our social media communication channels, where the winner will be announced in the beginning of November.