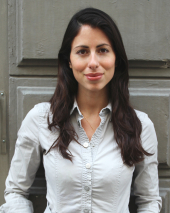 More info
The purpose of CEMS is to forge a global mindset within emerging business leaders. The result of these efforts is a graduate that is equipped with the knowledge, values, connections, and most importantly, the global mindset needed to lead — ensuring our constantly changing world changes for the better. 
In this series of interviews, we celebrate the incredible accomplishments and successes of CEMS alumni that are contributing to make this world a more open, sustainable and inclusive world. The CEMS Alumni of the Year is a joint campaign by the CAA in close collaboration with the CEMS Student Board, which gives the CEMS community the opportunity to learn about CEMS alumni and vote for your favorite candidate as the CEMS Alumni of the Year.
CEMS Alumna of the Quarter
Susanne Najafi is the founder and CEO, Unity Beauty Group (eleven.se, apolinsen.no and founder of 6 other companies). She graduated from the CEMS MIM programme in 2008, studying at LSM and SSE.
1. What do you associate with CEMS personally? 
I had a great time, and I truly appreciate the network and the people I got to know during my CEMSyear. One memory is from a course in information management, where we went through project management of systems but also e-commerce platforms (this was in 2004 so e-commerce wasn't established as it is today). Most students thought it was a rather boring class with tough teachers, The professor said that I had a talent for this area and that's when I got really hooked on e-commerce and optimising different systems and flows.  
2. What was the most important thing that CEMS taught you?
Managing cultural differences and negotiation skills. 
3. What were your career steps after finishing CEMS? (Did the CEMS network contribute to your professional achievements? If so, how?)
I made my CEMS-internship with Oriflame in Iran starting their first business there, then I finished my degree and started at Procter&Gamble. I worked there for almost 5 years, managing beauty care in the Nordic countries and the last 2 years Middle East and half Asia, placed in Dubai. 
After that I moved back to Stockholm Sweden, broke my neck, started thinking, quit P&G and founded my first companies. I started a perfume production company, 2 pharmacies, a haircare brand Wetsuithaircare.se, a beauty online site parelle.se, acquired largest online beauty retailer in Sweden eleven.se, now going for the top -position in Nordics and stared a multi-channel concept that sells contact lenses in pharmacies: apolinsen.no etc
3. What is the accomplishment in your career you are most proud of?
To have built an organisation of amazing people that I see grow everyday. They astonish me with their great ideas and I'm so damn proud of them!
4. What advice would you give current CEMS students?
Get outside of your comfort zone, the scarier something feels to do, the better it is - that's where you grow.