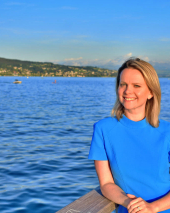 More info
The CEMS Global Alliance is a purpose led organization, powered by our beliefs that great leadership starts with self-leadership and societal progress requires continual exploration. In this series of interviews, we take a look at CEMS students and alumni that are contributing to make this world a more open, sustainable and inclusive world.
Humans of CEMS: 

If you visualise your path to success and persevere, it is certain to materialise.
Today, in our Humans of CEMS series, we meet Alexandra Ghilardi, the Managing Director of Vizavi – a digital design agency based in Zürich. Alexandra graduated from CEMS from University of St.Gallen with her exchange at London School of Economics. She started her career with one of the CEMS Corporate Partners – ABB, went on to work for FIFA and then decided to build her own business. 
1. Being a managing director of a visual communications agency - What skills does it require from you? On what factors do you focus the most on as a leader?
My responsibilities are mainly focused on business development and general company management. However, Vizavi is a young and dynamic agency, and so as a managing partner I often take on a number of other tasks, from accounting to HR. 
I would say communication and decision-making are the skills I rely on most in my everyday work. The creative direction is managed by my talented business partner. 
We built an international team in a virtual office – uniting talented designers from all over the world and allowing them to work from home whenever they want, already before the global pandemic. Such an approach comes with a challenge of "remote" leadership. It is not always easy to manage and motivate your team, and especially so if you do not see each other on a daily basis in the office. However, diversity and flexibility of the model pay off. Investment in recruitment and trust in people ensure excellent outcomes. 
 2. 

Woman empowerment - What would you advise for female students who want to succeed in the business world,

especially considering your experience at FIFA?
Relying on my experience so far, there are a few prerequisites for success in the business world, including drive, discipline, and also some luck. Gender is however not on that list.
 I would advise female students to think of your strong qualities, what you excel at, and continuously develop those skills, to make you stand out. But really, I would advise the same also to male students. I play golf and this sport has taught me to picture a good shot in my swing, instead of worrying about the many things that could go wrong. Think in terms of what you can, not in terms of what you cannot – success is certain to materialize.
 3. 

Please tell us how is it to work with the CEMS Office as a managing director of a partner company, not as a student.
VIZAVI supported the CEMS office with a few projects, including a promo video for the Career Forum 2021 for example. Working with like-minded professionals is always very lucky and makes the work especially enjoyable. One can always rely on being on the same wavelength within the CEMS community. CEMS has always been a benchmark of excellence, I was proud to be a CEMSie student, and now am even more proud to be a CEMSie partner company. It is exciting to be able to contribute to the CEMS MiM program also after graduation. 
4. 

Has CEMS impacted your professional career?
Definitely - CEMS experience has expanded my global perspective and emphasized modern values, which we base our business on today. Following the concept of global citizenship, our goal is to build a team of the world's best creative talent regardless of any geographical boundaries and offer them access to the most exciting international projects. 
 Here I would also like to mention exposure to the CEMS corporate partners, which the program offers to students. Practical insights, complementing the theory, allowed me to navigate professional environment with more confidence already at the beginning of my career, which I greatly appreciated. 
5. 

What piece of advice do you wish you had received at the point of graduation?
 I remember that after graduation we were all very excited about conquering the business world and shooting for the stars, equipped with all the valuable CEMS leadership tools. Looking back now, I would probably emphasize that while graduation is indeed a milestone, and a great one, there are still many more to come and the learning continues as you gain experience on the way to becoming the leader you aspire to be.